Collette Pads
$43.99
or 4 fortnightly payments of $11.00 with
More info
Our Silcskin Neck (Collette) Pads are designed to wrap around the neck and cover wrinkling caused by exposure to the elements, gravity and ageing.
They can be worn either underneath the chin or on different levels of the neck – wherever neck wrinkles appear.  Our 100% medical grade silicone pads adhere extremely well to the skin and the pads have been designed to stay firmly in place.  They are a skin care time saver as they are typically worn at night while you sleep, although they can be worn during the day if you prefer.  They last substantially longer than similar copy products, which also saves you money.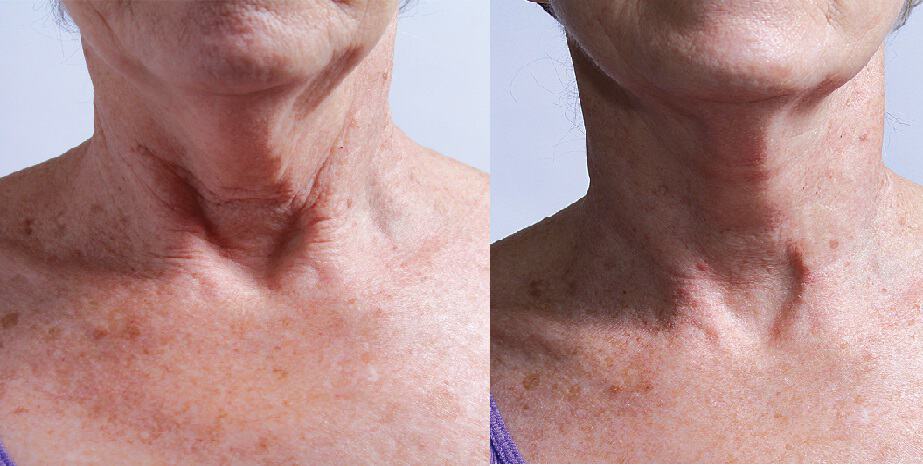 You deserve to look younger. Our 100% medical grade silicone pads repair and prevent wrinkles while you sleep!
Description
Skinvigor8's Silcskin Collette Neck Pads are designed to treat neck wrinkles caused by sun damage, sleeping with the face and neck compressed, ageing and gravity.  As we are constantly moving our heads throughout the day, neck creases will only deepen over time.
The Silcskin Collette Pads contour to the neck and prevent and repair neck lines while you sleep.  These anti-wrinkle silicone pads combat ageing skin by hydrating and plumping out the surface, as well as preventing the skin from creasing together.  The results are noticeable after 1-2 nights and are cumulative over time.
Silcskin has designed their Neck Pads to suit all neck types.  If you find they are too long, simply snip some silicone off each end and use this for any other areas you have wrinkles such as the eyes, mouth or chin – the options are endless!  Crepey skin on the neck is repaired due to the silicone pads drawing moisture from the body to the surface of the skin.  They also improve blood flow and smooth out the irregular collagen structure of the skin.
The Silcskin Pads were included in the 2016 & 2017 Oscars Goodie Bags and have been endorsed by Hollywood's Diana Riva who has starred in, amongst many other things, 'What Women Want', 'Short Term 12′ and '17 Again'.  Patricia Arquette is also a huge fan of Silcskin!
All items are sent via either Registered or Express Post.  Registered post orders over $100 include free shipping.  Express post orders are an additional cost.
Registered post requires a signature on return and is considered the safest method.
5 Pads and above are automatically sent in an express post bag which is the fastest method. There is an option to have signatory required on receipt of goods on an express post bag as the tracking number does not guarantee delivery to the right person – it only confirms that the parcel has been delivered.  This is an additional cost.
Please note: Whilst we do everything we can to track a missing order, sometimes it is simply impossible to locate due to incorrect address advice / theft etc, so please bear this in mind when ordering (especially if your area is prone to theft, in which case a PO box or work address would be appreciated). Please ensure the full address is supplied when ordering.
We are unable to take responsibility for missing post as it is up to the individual to advise a safe and correct address that we can utilise. If an address is incorrect or incomplete, orders are  usually returned to us by Australia Post, in which case we will contact you for correct details and resend accordingly.
Voula G
Amazing product! It works! I believe that 'Skinvigor8' deserves huge praise!
Rating : ★★★★★
Jo Farrell
These neck pads are fantastic.been using expensive creams for years and nothing worked. When I tried these I thought another gimic. I am so happy with the results. They seem to flatten out the skin on
the neck. I rinse mine out every night in warm water and velvet soap which I buy in Coles. Highly recommend these.
More/Less
Rating : ★★★★★
Mary
I wanted to let you know that I received this item in the mail yesterday. I used it last night and it works great! I absolutely love it. I will be ordering another one as a back up right away.
Rating : ★★★★★
Mary Jane
Dear Sally
ave had lazer chemical peels slept in a bra used the best face moisturizer on my chest.? But nothing worked until now. The wrinkles have completely gone.? Bring on summer when I can wear singlet tops again. My hands were also showing signs of aging.? After the 2 month period of wearing the pads on my chest when they lose there stickness.? I have been cutting them down to fit on the tops of my hands. I then purchased white gloves (cut the fingers off) from the $2 store and wear them to bed. WOW within 4 weeks my hands are now improving too.? Im sure many women have the same concerns as me - I keep staring at my hands and can't believe the improvement.? I hope you like my idea.
More/Less
Rating : ★★★★★
Name Withheld
From that morning on I've slept every night wearing the Skinvigor8 pad as I couldn't bear to go back to waking with the wrinkles that I used to have. The pads are very economical as you can use them
ver and over. They wash up well once per week and you can just keep on using them until the stickiness wears off. As I'm quite time poor it's such a relief that they take no time at all to use. You simply peel the pad off the plastic wrap and slap it on your chest then go to sleep. It's that easy!!!!
More/Less
Rating : ★★★★★