Silcskin Hand Treatment
$47.05
Our Silcskin Hand Treatment is manufactured from medical grade silicone and was invented specifically to treat hand wrinkles, however it can also be used to treat the knees, legs, elbows and arms.
It plumps up the skin, gives it a hydrating glow and is perfect to keep in your handbag for when your skin is feeling dry and dull.  Medical grade Dimethicone improves the appearance of wrinkles and crepey skin.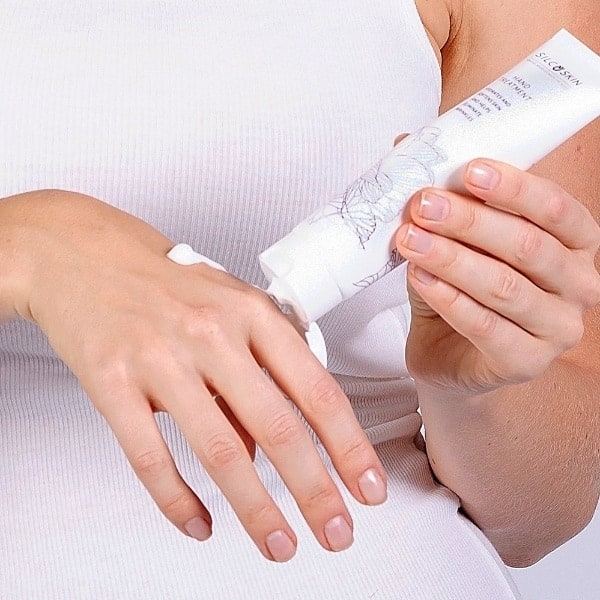 Medical grade Dimethione - treats wrinkles and creepy skin like scars.
Description
The SilcSkin Hand Treatment cream:
Hydrates the skin.
Contains medical grade Dimethicone that treats wrinkles and crepey skin.
Is non-comedogenic and non-irritating.
Creates a protective barrier on the skin's surface.
Is made in the USA
Our Hand Treatment treats wrinkles as if they were scars, pulling the skin's natural moisture to the surface, hydrating the skin and improving the collagen structure. Made using medical grade silicone, the cream was originally designed for hands, but can also be used on your arms, elbows, knees, legs and the skin under your arms.
INSTRUCTIONS FOR USE
Unscrew the flip top and remove foil prior to the first use. The SilcSkin Hand treatment is concentrated, so apply a pearl size amount to the problem area and gently rub it in in circular motions until it is
absorbed by the skin. Apply every 6 hours for maximum results
The Silcskin Pads were included in the 2016 & 2017 Oscars Goodie Bags and have been endorsed by Hollywood's Diana Riva who has starred in, amongst many other things, 'What Women Want', 'Short Term 12′ and '17 Again'.  Patricia Arquette is also a huge fan of Silcskin!
All items are sent via either Registered or Express Post.  Registered post orders over $100 include free shipping.  Express post orders are an additional cost.
Registered post requires a signature on return and is considered the safest method.
5 Pads and above are automatically sent in an express post bag which is the fastest method. There is an option to have signatory required on receipt of goods on an express post bag as the tracking number does not guarantee delivery to the right person – it only confirms that the parcel has been delivered.  This is an additional cost.
Please note: Whilst we do everything we can to track a missing order, sometimes it is simply impossible to locate due to incorrect address advice / theft etc, so please bear this in mind when ordering (especially if your area is prone to theft, in which case a PO box or work address would be appreciated). Please ensure the full address is supplied when ordering.
We are unable to take responsibility for missing post as it is up to the individual to advise a safe and correct address that we can utilise. If an address is incorrect or incomplete, orders are  usually returned to us by Australia Post, in which case we will contact you for correct details and resend accordingly.